Drug offences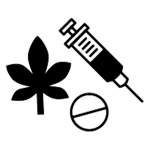 If you are concerned about the possibility of a drug offence or have been charged, contact our office. We can walk you through the process, and provide insight into the complex area that is drug law.
It is important to note that if you've been charged with a drug offence, Crown is required to prove the following:
That you had physical possession or custody of the prohibited drug
That you knew that you physically possessed the prohibited drug
That you intended to be in possession of the drug
That under the Controlled Drug and Substances Act, the drug is prohibited.
Drug offences are covered under the Controlled Drug and Substances Act (CDSA). The CDSA holds difference offences and penalties according to what "Schedule" the drug is categorized under. The list below provides a basic outline of the categories and related drugs covered in the CDSA:
Schedule I Substances
Opium poppy (including the preparations, derivatives and salts, such as opium, morphine, acetorphine, codeine, morphine, codeine, thebaine, benzylmorphine)
Methamphetamine
Amphetamines
Coca (including the preparations, derivatives and salts, such as coca leaves, cocaine, ecgonine)
Others include, but not limited to: phenazines, phenylpiperidines, amidones, methadols, phenalkozams, morphinans, fentanyl, moramides
Schedule II Substances
Cannabis, and it's preparation, derivatives, and synthetic preparations
*Contact us if you have any questions about Cannabis and its use, and regulations*
Schedule III Substances
Amphetamines (this includes their salts, derivatives, isomers. This does not include methamphetamine).
Schedule IV Substances
Substances include, but are not limited to: barbituates, chlorphentermine, phendimetrazine, mazindol, clotiazepam
If you have been charged with any of the following, our lawyers are willing and able to help you navigate your way through this charge. We have experience in dealing with these types of offences.