Administrative and regulatory matters
What is Administrative and Regulatory law?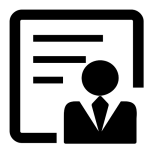 This form of law focuses on the legislation and principles that occur through interactions between regulating bodies and their members.
How we can help
The lawyers at YYC Criminal Defence know the intricacies of the law, and we can help you navigate through any administrative and regulatory matters you may be facing. We understand the professional lifestyles of our clients, and that's why we are here. We can help you continue on with your responsibilities, allow us to handle the rest.
We represent clients at tribunals, and before regulatory decision makers. We work with our clients through a multitude of areas, whether it be drafting corporate documents and policies, or acting as independent counsel. Below is a list of areas in which we are trained, and ready to assist our clients with:
Workers Compensation Board
Energy Resources Conservation Board
Law Society of Alberta
Natural Resources Conservation Board
Municipal Government Development Appeal Boards
College of Paramedics
College of Chiropractors
College of Social Workers
College of Physicians and Surgeons
Environmental Appeals Board
Alberta Securities Commission
Transportation Board
If you require assistance or are still trying to understand the process, please contact our office. Our lawyers are willing and able to assist you in any of your Administrative and Regulatory matters.